Walking Tour
Stories of Granville Street
The Street at Centre Stage
Alexa Dagan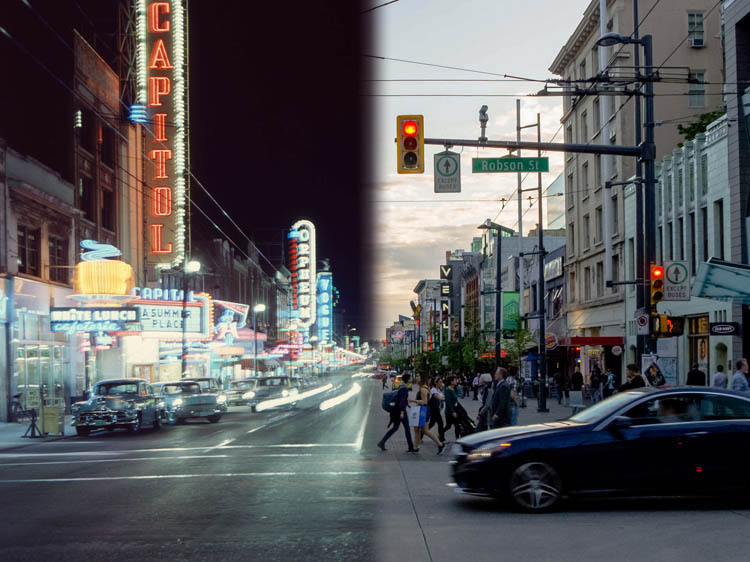 Vancouver Archives AM1531-: CVA 672-1
From the moment of Vancouver's modern founding in 1886, Granville Street has always held centre stage. For a short time the new city was actually named Granville, after a British politician at the time Lord Leveson, the 2nd Earl Granville. But when the Canadian Pacific Railway's planners decided the tiny logging settlement was going to be the western terminus of their grand nation-building railway, they wanted people in the rest of Canada to be able to find the place on a map. Many people had heard of Vancouver Island, and it was nearby, so the name Vancouver was chosen instead. To avoid hurting the feelings of the the earl for losing his naming rights to the city, the main street connecting the harbour and the highest point in downtown Vancouver was named in his honour.
Granville Street quickly became the city's premier shopping destination, home to upscale boutiques, swanky hotels, and opulent opera houses. It was also headquarters of the city's dynamic nightlife, gaining renown for Theatre Row's legendary vaudeville acts and one of the world's largest displays of neon signs.
In this walking tour we will peel back time to see how Granville Street has evolved over the last 140 years. We will not focus so much on the buildings and businesses themselves, but on the generations of people who have made this city what it is today. As we walk Granville Street, we will learn about the lives and exploits of pioneer lumberjacks and Vaudeville actresses, corrupt politicians and crooked cops, bootleggers and environmental activists. There are so many stories to tell on Granville Street, and this tour will show you just a few of them.
This tour was developed in partnership with the Downtown Vancouver Business Improvement Association.
This project is a partnership with the Downtown Vancouver Business Improvement Association.
---
---
---
Explore
---