Walking Tour
Architecture
A Tale Told in Wood, Brick and Steel
Andrew Farris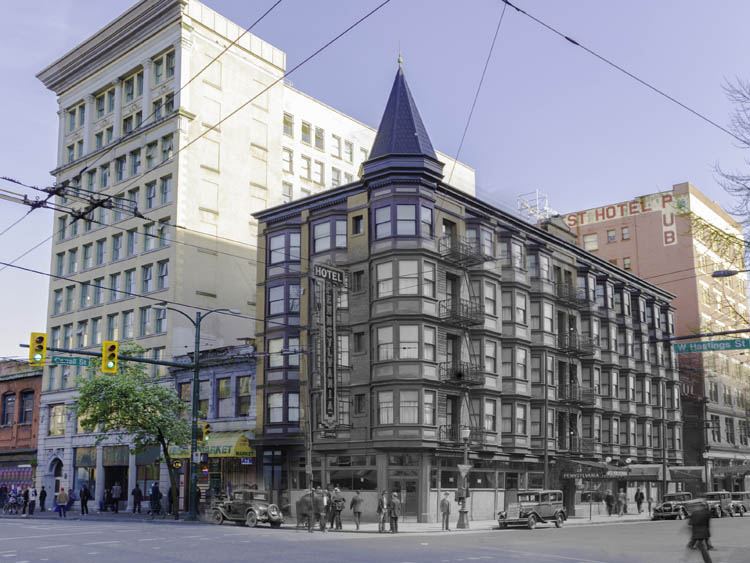 Vancouver Archives AM1535-: CVA 99-3895
For most of us, our buildings are utilitarian things, little more than pieces of scenery. They are to be lived in and worked in, but rarely considered and appreciated. Walking down the street we may be struck by a particularly handsome or interesting building, but the moment is fleeting and quickly lost in the hustle and bustle of daily life.
Yet that momentary spark of inspiration is in some ways the essence of architecture. Canada's most legendary architect, Vancouver's own Arthur Erickson, said, "Whenever we witness art in a building, we are aware of an energy contained by it."1 Careful, considered and conscious effort has been put into every aspect of the way we interact with our buildings. They are designed to impress and to inspire. To make us feel.
One of the most wonderful things about living in a city is being surrounded by fine examples of architecture. Taking the time to contemplate that architecture can be an immensely enriching experience, opening the door to a deeper understanding of the people that created it. A city's buildings are a reflection of a society's values and the way it sees itself.
As the Oxford History of Architecture put it, "Architecture, to state the obvious, is a social act—social both in method and purpose. It is the outcome of teamwork; and it is there to be made use of by groups of people, groups as small as the family or as large as an entire nation. Architecture is a costly act. It engages specialized talent, appropriate technology, handsome funds. Because this is so, the history of architecture partakes, in a basic way, of the study of the social, economic, and technological systems of human history."2
This tour will guide you through the rich architectural legacy of the first 50 years of Vancouver. We will see who and what inspired Vancouver's most famous landmarks. We will learn the characteristics of some of the most prominent building style and examine the social, economic and technological changes reflected in the buildings from this dynamic and exciting time.
This project is a partnership with the Downtown Vancouver Business Improvement Association.
---
---
---
Explore
---