Walking Tour
A Stroll Down Queen Street
The Rise of Sault Ste. Marie
Alexa Dagan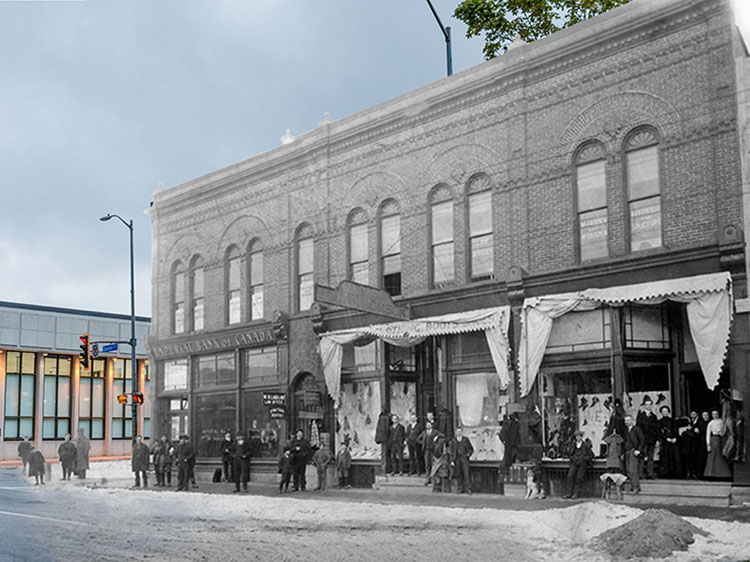 Much of Canadian history was built on the banks of its rivers. For Sault Sainte Marie, St. Mary's River first served as a major fishing river, with innumerable schools of whitefish leaping over the river's once turbulent rapids. From there, it was a major shipping highway of the fur trade, which led naturally into its current role as one of the world's busiest shipping channels.
From its early days as a rough and tumble fur trade post, to the town's meteoric rise as the industrial heart of northern Ontario, to a charming Victorian community, Sault Sainte Marie has repeatedly been reincarnated by a series of complex and exceptional individuals who never failed to perceive and encourage the little town's unlimited potential.
Follow us on a stroll down Queen Street as we use some of the city's oldest buildings as windows into Sault Sainte Marie's colourful past.
This tour starts on Pim Street, where we can explore the Ermatinger Clergue National Historic Site and uncover Sault Sainte Marie's fur trade routes and view the homes of some of the city's earliest pioneers and developers. From there we turn left onto Queen Street East, and arrive at the Algonquin Hotel where we leave the fur trade era and learn about Sault Sainte Marie's increasing connections to the world around it.
From there, the tour continues straight down Queen Street, with several stops along the way exploring themes such as the role of the Catholic Church in the young community, the everyday lives of Victorian Ontarians, Sault Sainte Marie's development from community to city, the role of the city's Italian immigrants, before finally ending at the GFL Memorial Gardens for a brief reflection on Sault Sainte Marie's legacy of producing some of the country's most extraordinary, talented, and driven people, as well as its contributions to Canadian history since the city's earliest days.
This project is a partnership with the Sault Ste. Marie Downtown Association, the Sault Ste. Marie Museum, and Tourism Sault Ste. Marie.
---
---
---
Explore
---