Walking Tour
Downtown Sault's Murals
Showcasing Sault's Artistic Talent
A partnership between FutureSSM and the Sault Ste. Marie Downtown Association, the Downtown Mural Project 2019 consists of 5 large-scale murals in the downtown core to support and coordinate with downtown revitalization initiatives.
This project is a partnership with the Sault Ste. Marie Downtown Association, the Sault Ste. Marie Museum, and Tourism Sault Ste. Marie.
1. Patrick Hunter
---
Patrick is a new member to the Canadian Gay & Lesbian Chamber of Commerce family, which has led to partnerships with RBC, BMO, STAPLES Canada and Redwood Classics apparel. He is also the artist in residence to the Princes Trust Canada, which is a charity that operates to expand Indigenous language retention in Canada. His scarf collections have been purchased as gifts entities like Global Affairs Canada, and in 2016 was selected by web giant eBay Canada to do an apparel collection with proceeds from sales going to Indigenous charities. Whenever home in Red Lake, Patrick makes it a point to teach art classes to various schools in the area and maybe inspire the next generation of Woodland artists to answer the call of the art world.
2. Rihkee Strapp & Mishiikenh Kwe
---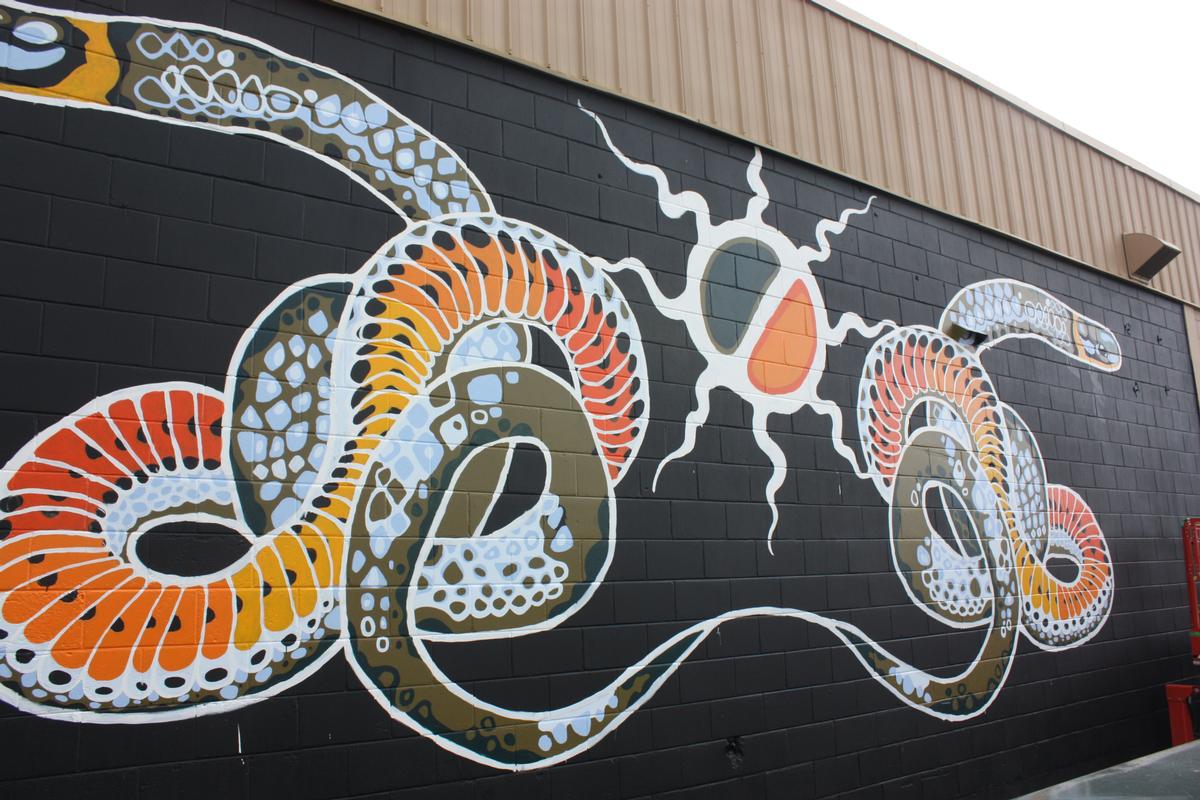 Their arts practice centers around nuances of identity, and cultural appropriation. Using the Woodland tradition of mnemonic painting, vivid colours, and legend, they juxtapose the experience of contemporary life for the rural-born Métis raised on the internet, with a focus on collaborative projects and community transformation.
Mishiikenh Kwe ndizhnikaaaz. Adik ndoodem. Namegnedawaan ndoonjibaa.
My name is Autumn Smith/Mishiikenh Kwe (Turtle Woman.) I'm anishinaabe (Ojibwe/Odawa) from the caribou clan, my community is Magnetawan First Nation. I grew up listening to stories from my grandmother who is an anishinaabemowin (ojibwe language) teacher from Wiikwemkoong and draw most of my inspiration for paintings from those stories, thoughts and teachings I got from her and from ceremonies I attend.
I often paint my own visions and dreams that come from a deep spiritual connection with and love for the land, my ancestors, animal/plant beings and all my relations
---
---
---
Explore
---