Walking Tour
Exploring Schomberg's Main Street
Where the Past is Present
By King Heritage & Cultural Centre and On This Spot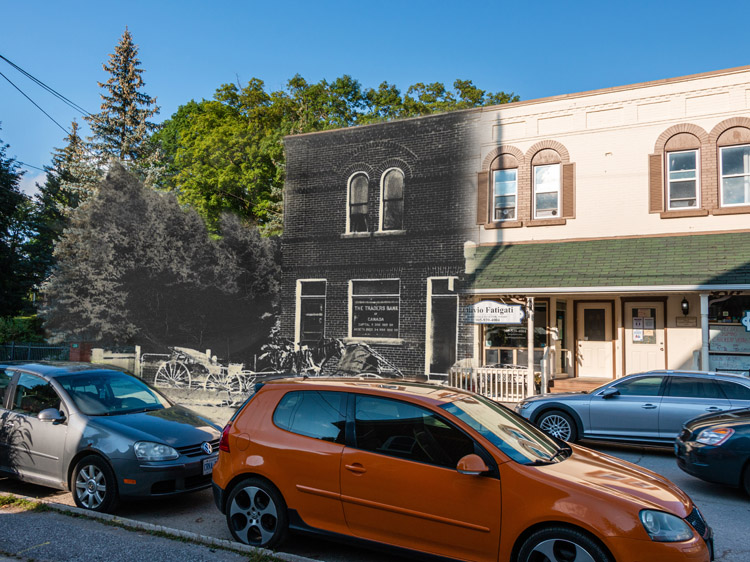 King Heritage & Cultural Centre
When looking at the history of any small town across Canada, its architecture, records, and eyewitness accounts only scratch the surface of the heritage of the communities that have called it home. The earliest evidence of people in Schomberg and the surrounding area dates back 10,000 years. The area was home to the Anishinaabeg, Huron-Wendat, Petun, Mississaugas of the Credit, and Haudenosaunee peoples.
In the 1830s, Quaker settlers founded the agricultural community of Brownsville. For many decades Brownsville was a trading centre, boasting a flour mill, blacksmith, tinsmith and various merchants. With the opening of its first post office in 1862 the village was renamed Schomberg to avoid confusion with another Brownsville located in nearby Vaughan.
Over the years expansion, population growth, fires and floods have altered the look of Schomberg's Historic Main Street. Modern businesses inhabit the historic brick buildings along a well-lit street. Now a thriving community that blends heritage with modern amenities, Schomberg is a vibrant place to live, visit, dine and shop.
The tour would not have been possible without the assistance of Bill Foran, Linda Jessop, Chief Jim Wall, George Burt, Jeff Hank, Terry Maynard, Gary Maynard, Tony Ouwendyk, Wendy-Sue Bishop, Geoffrey Aitchison, Alex Milani, Sandra Creighton, Daniel McConnachie, the Remember Schomberg group as well as countless other Schomberg residents.

Route The tour starts and ends at the fairgrounds, home of the Schomberg Agricultural Fair since the 19th century. Free parking is available. As you follow the tour, be sure to also check out the 'Nearby Stops' section for more interesting stories about Schomberg and the area.
From the fairgrounds, walk east on Western Avenue to Main Street and cross to the east side. Stop at the intersection of Main Street and Dr. Kay Drive where you'll learn about the history of the Schomberg & Aurora Railway and the Schomberg Feedmill.
Then continue walking south on Main Street and discover the historic community hall and more stories about Schomberg. As you stroll along, take a moment to reflect on early Indigenous communities and how this land has changed.
At your next stop you'll learn about Doctor Dilliane and his service to the community. Further south, near the corner of Church Street and Main Street, the theme is all about hotels and tractors; then cross to the west side of the street and head back north.
Walking north, take in the history of Hurricane Hazel and other disasters that changed this village; learn about one of Schomberg's vets and the growth of shops and services.
The tour concludes at the community hall, looking across the street to the Trader's Bank building, the first official bank branch in Schomberg.
This project is possible through the generous support of the Township of King and is funded by Digital Main Street/FutureProof Lab.
---
---
Explore
---