Walking Tour
Life in Early Parry Sound
The Town's Story
Joshua Edmunds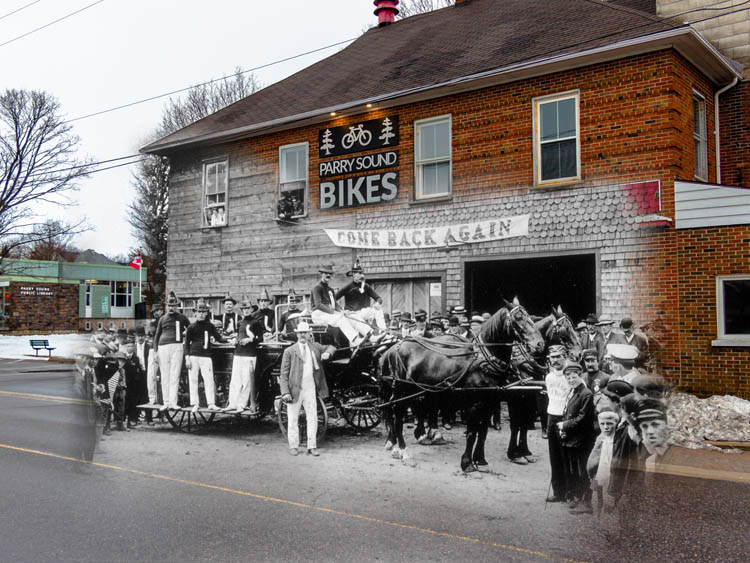 West Parry Sound District Museum 2001.016.1335
In this tour we will take a step back in time and look at Parry Sound through the eyes of those who lived here in the town's early days. The significant resource potential of the region, and Parry Sound's strategic location on Georgian Bay, helped it develop from a frontier post into an industrial hub in a few short decades.
As the lumbermen felled the dense forests of white pine, new possibilities came into view. Great companies emerged, themselves headed by dynamic pioneers, such as William Beatty Jr., Patrick McCurry, and J.C. Miller.
Yet a town's destiny is not defined simply by its most prominent citizens. Advances in technology and economic development spurred population growth and led to the building of mills and waterworks, dockyards and fire halls. The quickening pace of change made Parry Sound's citizens forward-looking, and they eagerly wondered what the future held in store. What ensued was a redefining of the old civic traditions, changes that have woven a rich tapestry of history which we may now explore.
This tour will begin at the docks, which were Parry Sound's connection to the outside world. It will then continue into the downtown core, where the shops, schools, and churches that were built gave Parry Sound its unique character.
This project is a partnership with the Parry Sound Business Association and the West Parry Sound District Museum.
---
---
---
Explore
---