Walking Tour
Tales of Main Street
Life, Livelihood, and Leisure in Fort Macleod
Alexa Dagan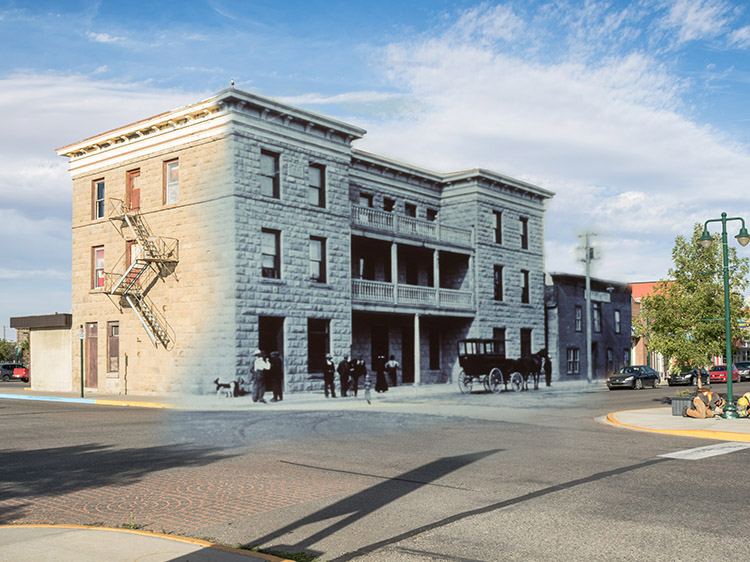 This settlement, nestled in the prairie at the base of the foothills of the Rocky Mountains and on the banks of the Old Man River, boasts the natural, austere beauty of the plains of southern Alberta. When one newspaper reported on the geography of the town, it stated that "[Fort Macleod] commands a view which, for variety, beauty, and grandeur, is hard to be excelled… It is the finest section of the North West." First the traditional territory of the Blackfoot Confederation, then a North West Mounted Police fort, to the home of cowboys and ranchers, to its rise as a railway boom town, Fort Macleod has long been home to locals who have survived, failed, and triumphed through the rises and falls of frontier life. Aside from the Holy Cross Catholic Church, this tour focuses on Fort Macleod's heritage businesses, their original proprietors, and buildings located within the designated Provincial Historic Area, one of only two such designated historic areas in the province.
Our tour will start on the south side of 24th Street (the historical Main Street) directly across from the Empress Theatre, the first stop on this tour. After that we'll head west, to the northwest corner of 2nd Avenue and 24th St to learn about the experiences of the first settlers of Fort Macleod and the early days of the community. Then we'll continue south, where we'll see the old Canadian Bank of Commerce building and uncover the history of the heritage buildings framing the intersection. Next, we will go to Fort Macleod's memorial square to study the monuments and learn about their contributions in the Second World War. From there, we'll make a stop outside of the historic courthouse - which is the only remaining building in Alberta that served as both a territorial and a provincial courthouse.
After the courthouse, we'll go back to 2nd Avenue to look at some of the oldest commercial buildings on Main Street. We'll end the tour by crossing 3rd Avenue to learn about the award-winning Macleod Gazette, then turn north to view the Chow Sam Boardinghouse and the Holy Cross Catholic Church. To complete things, we suggest you return to Main St. to contemplate all you learned about the people who walked these streets over a century ago.
This project is a partnership with the Cultural Heritage Tourism Alliance and Tourism Fort Macleod.
---
---
---
Explore
---