Walking Tour
First Bastion of the Foothills
The NWMP in Canada's Wild West
Alexa Dagan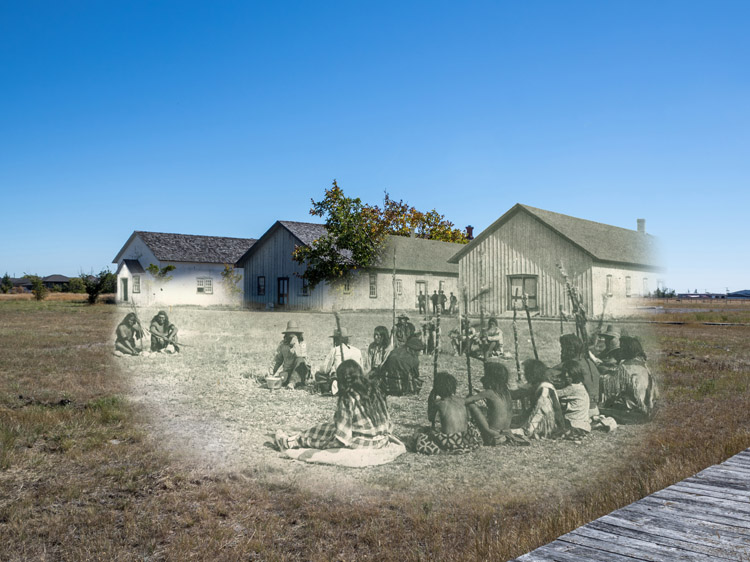 Fort Museum Archives FMP 81.86
If you were to flip open an atlas and compare a map depicting the vast Canadian landscape in the year 1873 to a similar map printed today, you would notice some significant differences. Between British Columbia in the west and Ontario and Quebec in the east, there were no provinces: Just a vast ocean of grassland punctuated by nomadic groups of the Prairie First Nations, that was marked as the North-West Territories. You may look at this great space in between and wonder at the grandeur and mystery of the natural landscape. But in the early 1870s, officials in Ottawa had more pressing concerns: the massive potential the North-West Territories held for agriculture, industry, and most of all, capital.
To develop this land, it would first have to be settled. To facilitate the process, the federal government created a multipurpose force that was both police and military, diplomat and enforcer, and, to the Blackfoot Confederacy of the prairies, both friend and foe. This force, which would eventually become the Royal Canadian Mounted Police, and one of the most well known emblems of Canada, marched into the west, facing hardship and adversity to bring law and order to the prairies, and prepare the land for settlement.
On this tour we will explore the role of the North-West Mounted Police in settling the prairies and establishing the community of Fort Macleod. The tour will take you through the old NWMP barracks, once a dense cluster of bunkhouses and stables, but where now only a few scattered buildings remain.
This project is a partnership with the Cultural Heritage Tourism Alliance and Tourism Fort Macleod.
---
---
---
Explore
---