Walking Tour
If These Walls Could Talk
Aurora's History told through Architecture
Andrew Farris, Shawna White, Michelle Johnson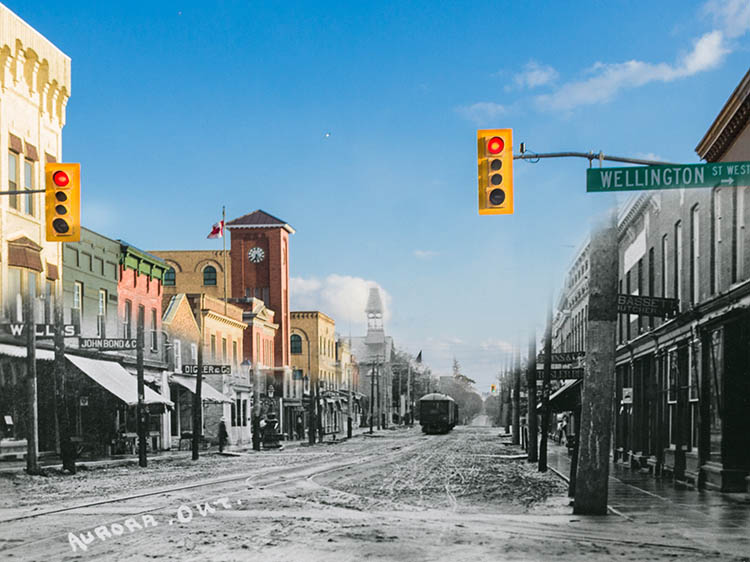 In this tour we will discover the history of this town, as told through the buildings where generations of Aurorans lived out their lives. Few buildings survive from the town's humble beginnings as a quiet farming district some two centuries ago. Beginning in the 1850s however, when more people settled here, they brought with them an optimistic outlook on the future, and built homes and businesses designed to stand the test of time. Aurora is, after all, named for the Roman goddess of the dawn--and Aurora's dawn was thought to be especially bright.
The community grew into a village, and then a town, and Aurorans erected buildings to reflect that new status. Many of the buildings we will see on this tour are historic landmarks that have played key roles in the development of the community, such as the Public School, the Armoury, and the Train Station.
Some have not survived to the present. It took a long time for people to begin to awaken the value of preserving heritage buildings, and important buildings like the Inglehurst mansion, the Town Hall, and the Queen's Hotel, were demolished before most people could realize what had been lost.
In the 21st Century the community has made great strides in preserving and rehabilitating the buildings that tell the story of its early years, and with continued vigilance they will hopefully still be standing for generations to come.
This project is a partnership with the Aurora Museum & Archives and the Town of Aurora.
---
---
---
Explore
---