Walking Tour
Remembering Aurora's Fallen
Lest We Forget
Tour Contributed by Shawna White, Michelle Johnson, and Jeremy Hood of the Aurora Museum & Archives.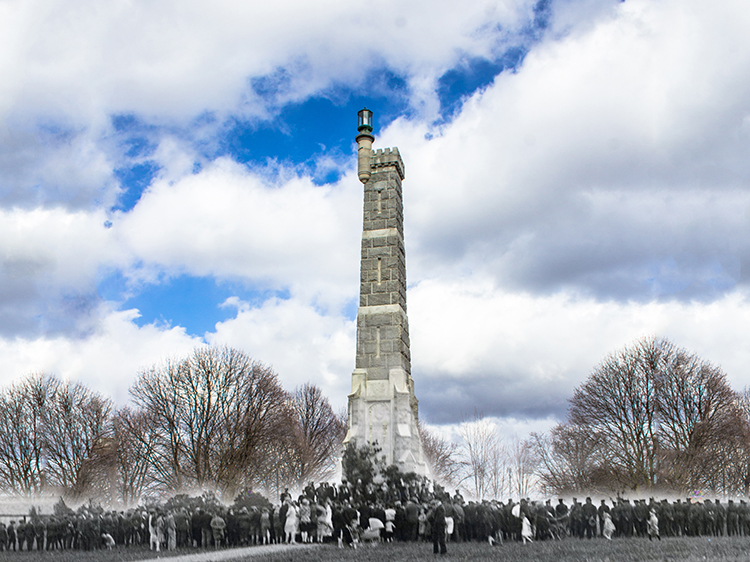 Tour Contributed by Shawna White, Michelle Johnson, and Jeremy Hood of the Aurora Museum & Archives.

On October 3, 1925 a crowd of over three thousand men, women and children gathered together to witness the unveiling and dedication of the Aurora War Memorial. During the First World War, Aurora was truly a small town with a population of approximately 2000. In such a small town, the loss of the twenty-four men who died while serving their country had a searing effect on the community. Some were born here, others were only here a short while. All of their deaths touched the lives of those citizens who were left behind.
After the war, Herbert Fleury (co-owner of J. Fleury's Sons) acted as an unofficial ambassador from Aurora to the cemeteries in France. In 1921, he toured the Flanders battlefields that were scattered with temporary wooden crosses.
In 1924, the close personal and business relationship between Herbert Fleury and Sir William Mulock provided the impetus for community action – in this case to build a memorial to those who had given their lives. Sir William Mulock purchased the land for a war memorial and offered to contribute $10,000 – but only if citizens from Aurora, King and Whitchurch could raise the same amount. Herbert Fleury's role, aside from making his own contribution of $1,000, was to chair the Aurora War Memorial Association, which would petition residents of the three municipalities in an attempt to raise the remaining funds. By April 1925, the Association secured the funds and the cornerstone of the memorial was ceremoniously put in place. Construction of the war memorial took just under six months The scene of the unveiling was described by the local paper, "The darkened clouds as if reminiscent of the days of the war parted and the bright sunshine shone through on the bowed heads of 3,000 men and women who had gathered to do honour to the fallen heroes of this section".1
The Aurora war memorial pre-dates the Canadian National Vimy Memorial (1936) and the Dominion War Memorial (1939).
Engraved on the Aurora War Memorial are the names of 71 soldiers from Aurora, King and Whitchurch. It is here where their sacrifice is remembered. This tour aims to tell their stories, one by one adding to the narrative with ongoing research efforts. We encourage anyone with photographs or stories to share about any of the names contained on the memorial to contact us directly. Lest We Forget.
This project is a partnership with the Aurora Museum & Archives and the Town of Aurora.
---
---
Explore
---