Walking Tour
Gorge Park
Esquimalt's Playground
By Annabel Howard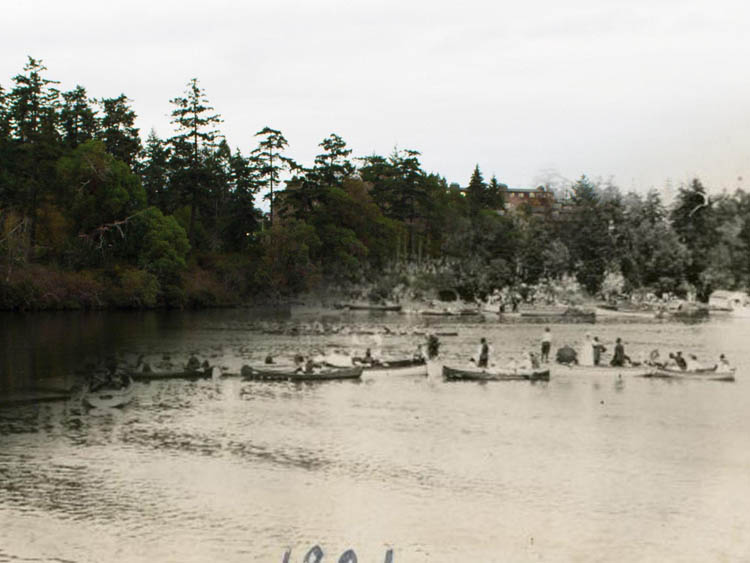 Esquimalt archives 984.7.3 & On This Spot Enterprises
In this tour we will explore the Gorge and discover how it has sustained and enhanced both First Nations and settler life, forming the backdrop for much recreation and celebration. We will discover how greed and rapid economic growth led to the environmental degradation of this once pristine place in the 20th Century. Finally we'll see how through the tireless efforts of dedicated local communities, the Gorge's natural beauty has been painstakingly restored, and is now an important part of a healthy, urban environment. The Gorge Waterway, once known as Cammosung by the Songhees First Nation, is a ten kilometre-long tidal waterway that runs from Victoria Harbour up to Portage Inlet. Its shallow and sheltered waters are home to fish, oysters, eel-grass, and waterfowl and provide ideal conditions for swimming, rowing, sailing, and fishing. In the 1990s archaeologists discovered middens--buried layers of charcoal, scorched rocks, fish bones and oyster shells--that proved people have inhabited the Gorge for at least 4,000 years. To the Coast Salish Peoples, this place holds intense spiritual power. To the settlers it became a valuable destination for repose and escape, a place that The Colonist described, in 1905 (on the opening of Tramway Gorge Park) as a 'sylvan fairyland'.1 Many early settlers left for Vancouver Island with dreams of finding what James Douglas described in his early letters as a 'perfect Eden.'2 They were to be disappointed. After a gruelling months long sea journey, they were greeted not by an Eden, but by poor farmland, sorry dwellings, and the relative indifference of those who'd come before. Kenneth McKenzie, who arrived in 1853 to set-up and manage a farm for the Hudson's Bay Company, was so furious he threatened to return home immediately. According to McKenzie's daughter, Wilhelmina, it was a trip up the Gorge that persuaded her father to stay. The family paddled up the Gorge to see the location of their farm, called Craigflower, roughly between what is now Gorge Park and Admiral's road 'The site they had chosen was so beautiful,' Wilhemina recalled, 'that my father's resentment was appeased.' At the time the McKenzies settled at Craigflower, the Gorge was named 'the arm of Concordia,'3 as designated by Hudson's Bay scouts in the 1840s. Some people, however, ignored the settler name and continued to call it "Camosack," an Anglicization of the First Nation's name. Throughout the 1800s what is now known as Tillicum Rapids (under Tillicum Bridge) was referred to as the Canal of Camosack, and was both admired and feared for its treacherous currents and large whirlpool. The rapids were doubly remarkable because they were reversing, meaning the direction of the water shooting through them changed with the ebb and flow of the tides. Although the geography of the rapids would be irreparably changed in the 1960s, at that time these were the only reversing rapids in western Canada. The water, when forced through a gap of only 15 metres, caused the currents to reach blistering speeds of 11 knots (20km/h) or more.4 5 Tillicum Narrows was not only a spectacle, it was, and had long been, a sacred place, central to the founding myth of the local Songhees band. According to Songhees legend, a young girl named Camossung (the namesake of Camosun College), was walking in the Gorge with her grandfather, Snukaymelt, 'the diving one.' Camossung was crying, so Haylas the Transformer asked her why, and she replied that her father wouldn't give them anything to eat. Haylas asked if she would like some sturgeon, but she said no, she didn't like sturgeon, so he threw it away and it landed in the Fraser River, which is why there is sturgeon in the Fraser river but not here. Haylas offered her cranberries and, again, she said no, so he threw the cranberries up to Shawnigan Lake, which is why they have cranberries up there but not here. This went on for a long time, and Camossung refused many foods, but she did eventually accept duck, coho, herring, and oyster. For her greed, Haylas told her she would, forever, be a guardian of these things. He turned her into stone and, because she liked to be with her grandfather, he turned him into stone as well and he stands in the water in the pose of someone jumping in, carrying a rock to take him to the bottom.
We'd like to thank the Esquimalt Archives for generous use of their historic photo collection.
1. The Regattas
---
Esquimalt Archives V988.6.1 On This Spot Enterprises
1892
In the early days of settlement, even regattas weren't free from politics. The first races were organized by Americans who, drawn to Fort Victoria during the gold rush of 1858, used them to celebrate Independence Day. The British, suspicious the Americans were trying to annex what would become the Canadian coast, forbade these patriotic American celebrations. But instead of banning the races they co-opted them, and from 1853 the regattas were moved to a newly declared civic holiday celebrating Queen Victoria's birthday.1 Anyone with a boat decked it out with bunting, flags and streamers, and sailed up the Gorge. Some sailors decorated copper punts (long, flat-bottomed boats, propelled with poles) with canvas props and scaled-down square rigging, dressed up as pirates, and drank and sang and fought mock naval battles. First Nations teams came from across the Straits from Vancouver and Puget Sound and from as far north as Fort Rupert and Bella Bella, to race in warships and dugouts for prizes that ranged from 2 to 8 silver dollars per paddle. Regattas died off after the British Navy withdrew most of its fleet from Esquimalt in 1905. They were suspended entirely during WWII. In 1947 they were briefly revived by the Royal Canadian Navy and the First Nations decided to hold their own regatta at Maplebank on Esquimalt Harbour in 1951. The last Regatta was 1954.
2. Natural World on the Gorge
---
Esquimalt Archives000.36.28 On This Spot Enterprises
1920
Some thrillseekers failed, inevitably, to respect the power of the water, especially at the Tillicum Rapids. Young swimmers would dare each other to jump off the bridge and be caught by the currents or the whirlpool that churned downstream. One thing that was respected during the early years was the Gorge's pristine environment. Both the Gorge and Portage Inlet are referred to as a 'nurseries of the sea' because fish (principally coho salmon, cut-throat trout, and herring) are spawned here and fostered by the extensive eelgrass meadows until they are mature enough to return to the open water. Settlers and Coast Salish peoples came here to fish, hunt for birds, and to gather oysters from what is still the largest native colony in British Columbia, and probably on the entire West Coast.1 As we shall see, the respect initially shown to the Gorge was, eventually, trumped by industry, but the efforts of local people over the past twenty years are gradually restoring it to its former, abundant state.
3. A Sacred Place
---
Esquimalt Archives V992.13.1 On This Spot Enterprises
1850s
Although the bridge in this image was built by a team of First Nations and settlers in 1848, and stood until 1867, people continued to enter the dangerous rapids. Settlers would jump from the bridge on a dare, and not a few of them drowned. First Nations women, hoping to inoculate their loved ones from drowning, would wade into the water to wash their clothes in the whirlpool foam. First Nations would also come to this place during spirit quests. They hold large rocks in imitation of Snukamelt and jump into the fast-flowing water. They dragged the rocks to the bottom where they hoped that Cammosung would take pity on them and grant them the spiritual power they sought.
4. The Gorge is Blown up
---
Esquimalt Archives993.10.12 On This Spot Enterprises
1900
In 1960, Robert Southwell, owner of a Gorge boathouse that generated income from pleasure cruises and boat rentals, decided to dynamite Camossung. The large rock blocked the waterway, creating vicious currents, and – more importantly to Southwell – preventing his larger cruisers from passing through the narrow channel and taking tourists on longer day trips around the Gorge. At first attempt the current flipped the blasting crew into the water, but when they came back at low tide, drilled deep holes in the granite, and packed the dynamite, they succeeded in blasting away a full two and half feet of rock. Stories around the explosion are somewhat mixed. Although Southwell acted without consent from the authorities, there must have been some local knowledge of his plans, because the crowd who came to watch the second explosion was large enough to attract policemen. Reactions varied from sadness to outrage, but the act was irreversible: in one fell swoop, Southwell changed the topography of the Gorge forever. The desecration of a sacred site, and the loss of Camossung was bitterly lamented by the Coast Salish Peoples.
5. Electric Gorge Park
---
Esquimalt Archives V989.19.13 On This Spot Enterprises
1930
A year after the opening of Gorgeway Electric Park, Hayato Takata and Yoshitaro Kishida, two prominent members of Victoria's Japanese community, founded Canada's first Japanese Tea Garden in the park. The garden was an instant success and, although it fell to ruin in the late 40s, recently it has been partially restored. Nostalgia for the gardens goes hand in hand with the story of its proprietors, which was ultimately one of failed fortunes and deep tragedy. The labour for the gardens was undertaken over the course of one winter by Japanese sailors wintering in Victoria Harbour. When the gardens opened in July 1907, everything about them was 'authentically Japanese.' The designer, Iasburo Kishida, Yoshitaro's father, had been persuaded to travel from Yokohama for the project. Isaburo used Japanese trees, ancient bonsai, shrubs, and seeds from a Yokohama nursery, all imported. He also brought all the decorations and material, which ranged from delicate porcelain figures to wall cladding to the paper lanterns which were lit – along with most of the Park, with electric 'candles'. The garden was such a success that it inspired the commission of three further projects: the famous rock garden at Butchart Gardens, the Japanese Garden at Hatley Park Historic Site, and a private garden for Sir Frank S. Barnard, for his now lost estate at Clovelly.2
6. Gardens and Games
---
Esquimalt Archives V989.19.3 On This Spot Enterprises
1930
Whilst adults sipped tea in the bamboo-walled tea house, wandered the pathways, or danced to the gramophone in the private dining pavilion, young children played in the miniature garden. Older children and young couples were encouraged to try the balls games shown in this photograph. The aim was to win prizes by throwing wooden balls through numbered holes. The prizes were all Japanese imports, and included pop guns, paper fans, ceramic dolls for younger competitors, as well as tea sets, serving trays, and flower vases.
7. Tragedy and Rebirth
---
Esquimalt Archives V989.19.20 On This Spot Enterprises
1930
In 1939, war measures began to restrict the movement of Japanese people across Canada, most specifically on the coast. The garden began to show signs of disrepair, and by the early 40s the Takata family had started to sell or even give away its constituent parts. The situation accelerated dramatically on December 7th, 1941, when the Japanese bombed Pearl Harbour. Japanese-Canadians were 'removed' from the coast – rounded up and interred. Four months after the attack on Pearl Harbour a CPR steamer left Victoria Harbour with 273 Japanese men, women, and children aboard, amongst them the Takatas and the Kishidas. The boat was bound for the mainland. The prisoners were initially interned at Hastings Park (later the Pacific National Exhibition Ground), but they were eventually moved to Slocan, in the interior.1 The Takatas and Kishidas lost their property, their houses and their businesses. What was left of the park was vandalized and, eventually, demolished. Cruelly, the government eventually sold it off to pay, ironically, for the cost of interment. Japanese prisoners were banned from returning to the coast until 1949 – four years after the end of hostilities. By this time, many had put down roots in the communities they'd been moved to, and few returned to Victoria. The Takata family ended up in Toronto, where Toyo Takata lived until 2002. Despite never moving back to the West Coast, Toyo made frequent visits and said, shortly before he died, that Esquimalt would always be his home.2 The idea of recreating the garden in honour of Toyo and all the Japanese-Canadians who were uprooted from their Victoria homes, was mooted in the early 2000s. The Esquimalt Archives, supported by volunteers from the Takata Japanese Garden Society, completed the first stage of the restoration project in 2009. The gardens have proved a popular destination ever since.
8. The Potlatch
---
Royal BC Museum Collections G-04244 On This Spot Enterprises
1900s
Potlatch,' then, is a collective noun for traditional First Nation's ceremonies. These ceremonies were used, apart from the reasons stated above, to celebrate birth and marriages, confirm social status, transfer privileges, and establish inter-tribal relations. It was natural that, when First Nations teams came from across British Columbia and the Pacific Coast to row at the Gorge regattas, potlatches marked the occasion. Although most teams camped on the Songhees reserve, potlatches like the one in this photograph were celebrated near Camossung's sacred site at the Tillicum rapids. For the most part, settler-indigenous relations were friendly in the early years, and it is interesting that the First Nations photographed here seem comfortable with photographers documenting this event. Besides this, settlers were also invited to attend a War Dance that was put on by the Cowichan, Wo'Saanich, and Coast Salish in 1893. The dance was performed along with a tug-of-war, an archery competition, oration, and music to an audience in downtown Victoria's Market Hall.2
9. The Blanket Market
---
Royal BC Museum Collections G-04242 On This Spot Enterprises
1900s
Before settlers arrived, blankets were made from a blend of goat hair traded from the mainland, waterfowl down, and the wool of specially bred dogs, which were quarantined on islands like Gabriola in the Salish Sea, or in gated caves.1 The dogs, often referred to by early explorers as 'woolly-dogs,' were distinct from hunting dogs, and the packs were kept separate to prevent interbreeding. Captain George Vancouver reported a sighting of dogs "shorn as close to the skin as sheep are in England...' and went on to compare them to large Pomeranians.2 The dogs began to disappear almost as soon as commercially manufactured blankets were imported the Hudson's Bay Company. The influx of blankets that European traders brought with them was on a scale unprecedented. They made the woolly-dog redundant, and descriptions become sparser from the mid 1800s. One of the last descriptions of a woolly-dog was on the Saanich Reserve in 1936, where a dog was being shorn for yarn to knit a pair of mittens.3 What the new blankets did bring was a shift in the Indigenous economy. David Latasse, who documented some of the early exchanges, recorded a great 'sense of wealth' shared by the First Nations peoples during these years.4 Although tribal leaders were wealthy men, their honour and respect depended upon the redistribution of wealth, most commonly at potlatches. Before the Hudson's Bay Company arrived, it seems that potlatches took place every three to four years. By the late 1800s, however, they had become frequent and grand, with as many as six-hundred blankets distributed at a time.
10. The Swimming Hole
---
Esquimalt Archives On This Spot Enterprises
1900
Both the Free and the Pay attracted large numbers of visitors, with 12,000 people using the 'Free' in the summer of 1916. 'Scientific swimming' (more commonly known, today, as competitive swimming) had been introduced to the city in the late 1800 and by the 1920s there were six swimming clubs based within a few hundred meters of Gorge Bridge. Swimming galas became popular on the waterway. The familiar speed races were supplemented by high-diving competitions, underwater swimming, and depth-diving (a forerunner of modern free-diving). By 1908 the Through Victoria Swim – a five kilometre distance swim from Victoria Harbour up to Gorge Bridge – had become the most popular event of all, with spectators lining the Gorge cheering the swimmers on. Most years, only a quarter of competitors made it to the end of the course. The freezing temperatures took their toll, and those who did complete often had to be hauled from the water because they lacked the energy to get out unassisted. Diving also drew large crowds. On summer afternoons performances from Gorge Bridge drew so many people that they blocked the road. The diving craze reached its apogee in the summer of 1922, when two dare-devil divers, Buck Calder and Billy Muir, built a 115 foot diving tower, from which they'd sometimes dive at night, clad in flaming asbestos. It was thrilling showmanship, but doomed to failure. At the beginning of August that year Muir broke his back in front of a huge crowd. From that point, enthusiasm for water sports was markedly dampened, and the swimming clubs and public spectacles faded with the rest of Gorge Park.
11. Industrial Wasteland and Rebirth
---
Esquimalt Archives002.24.3 On This Spot Enterprises
1968
Although the mill that James Douglas envisioned was never built, the farms and slaughterhouses at Craigflower ran their waste into the water, as did the industries based along Selkirk Waterway, Rock Bay and Victoria Harbour. Many houses drained their sewage waste straight into the Gorge. In 1939 a house boat owner caught typhoid and swimming in the Gorge was banned.1 By the 1980s, heavy metals, gasoline and industrial chemicals leached into the waterway from work-sites and derelict boats, pesticides, herbicides. The upper reaches of the water were heavily contaminated with fecal coliform counts. Unsurprisingly, herring stopped spawning in the Gorge waters, and as their numbers fell, so did the numbers of salmon. Clean-up efforts began in the mid-90s with two people: John Roe and his 10-year -son in a small rowboat, hauling trash from the water every weekend. Momentum grew as people, and eventually businesses, decided to help. By 1996, Roe founded the Veins of Life Watershed Society, which was dedicated to cleaning and protecting the Gorge waters.2 Since then, contributions have been made by local authorities, volunteers, and interest groups such as the World Fisheries Trust. There are annual volunteer cleanups every April and September. For the first time in years there is now a salmon run and a healthy oyster population in the Gorge again.
---
Endnotes
Tour Description
1. Minaker, D.,The Gorge of Summers Gone, (Desktop Publishing, Victoria, 1998). 121.
2. Letter from James Douglas to James Hargrave, February 5, 1843, quoted in http://www.beaconhillparkhistory.org/contents/chapter1.htm (accessed 20 November, 2016)
3. Minaker, 3
4. The rapids reverse because the Gorge is tidal and to the current of water changes as the tide rises and recedes
5. Canal of Camosack. Victoria Kayak. https://victoriakayak.com/canal-of-camosack/ (accessed 19th January 2017)
1. The Regattas
1. Royal B.C.Museum. "Songhees". http://www.royalbcmuseum.bc.ca/exhibits/tbird-park/html/pre/canoes.htm. Accessed 7th December 2016
2. Natural World on the Gorge
1. Capital Region District. "Gorge Waterway Info Sheet." May 2007. https://www.crd.bc.ca/docs/default-source/initiatives-pdf/gwi-pdf/infosheets/estuaries.pdf?sfvrsn=2 (accessed 29th January 2017)
5. Electric Gorge Park
1. Minaker, The Gorge of Summer's Gone, (Desktop Publishing, Victoria, 1998), 4
2. Asia/Canada. "Japanese Gardens in Canada. http://asia-canada.ca/asia-pacific-reality/asian-profile-canada/japanese-gardens-canada-0. Accessed January 29, 2017.
7. Tragedy and Rebirth
1. Robinson, S.K., Esquimalt Centennial, (Victoria, 2012), 42
2. Asian Canadians on Vancouver Island. "Toyo Takata." September 8, 2015. http://vi-asiancanadians.ca/2015/09/08/toyo-takata-takata-japanese-tea-gardens-esquimalt/ (accessed 30h January 2017)
8. The Potlatch
1. Lutz, J., Makúk: A New History of Aboriginal-White Relations, (Vancouver, UBC Press, 2008), 58.
2.Minaker, D., The Gorge of Summers Gone, (Desktop Publishing, Victoria, 1998), 51.
9. The Blanket Market
1. For more information, see Brash, R. L. Jones, J. M., & Suttles, W. (2002). History, ethnography, and archaeology of the Coast Salish woolly-dog. In L. M. Snyder and A. Moore (Eds.), Dogs adn People in Social, Working, Economic of Symbolic Interaction (pp. 1-11) Oxford: Oxford Books.
2. Brash, R. L. Jones, J. M., & Suttles, W. . History, ethnography, and archaeology of the Coast Salish woolly-dog. (2002)
3. Brash, Jones & Suttles.
4. Lutz., J., Makúk: A New History of Aboriginal-White Relations, (Vancouver, UBC Press, 2008), 80.
11. Industrial Wasteland and Rebirth
1. Minaker, D., The Gorge of Summers Gone, (Desktop Publishing, Victoria, 1998), 113.
2. Willcocks, Paul. "Reflections on an Urban Swim, and the change one person can make." The Tyee. September 1, 2016. https://thetyee.ca/Opinion/2016/09/01/Reflections-On-An-Urban-Swim/ (accessed 30th January 2017)
---
Bibliography
Keddie, G., 'The Legend of Camosun,' Discovery, Autumn 1991, Royal B.C. Museum, pp.4-5
Lutz, J., Makúk: A New History of Aboriginal-White Relations, Vancouver, UBC Press, 2008
Minaker, D., The Gorge of Summer's Past, Desktop Publishing, Victirua, B.C., 1998
Editorial, 'Gorge cleanup makes progress,' Times Colonist, January 12th, 2014
Robinson, S.K., Esquimalt Centennial, Victoria, 2012
L. M. Snyder and A. Moore (Eds.), Dogs adn People in Social, Working, Economic of Symbolic Interaction (pp. 1-11) Oxford: Oxford Books.
---
Explore
---